There are several kinds of commonly used ranch fencing, such as
* Metal wire
* Wood
* Vinyl.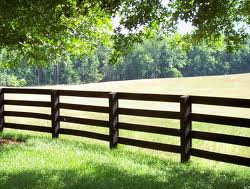 But wire ranch fencing is arguably the most popular and the most inexpensive. The wire on this fence is attached to metal or wood posts at a high tension. Depending on what animals are contained within, the fence may be electrically powered or contain barbed wire. For small animals, most ranchers use woven wire mesh fences.
However, metal wire fences usually prove insufficient and containing large animals. Composite and wood materials are better suited for this purpose. Wood fences have the strength to withstand charging cattle and tend to be hard for a horse to jump. Vinyl offers the same benefits as wood but vinyl last longer and does not need as much maintenance.
Metal Wire Ranch Fences
If price is a concern, woven wire ranch fencing is the cheapest. For horses, a tight weave is a must in order to prevent their hooves from becoming trapped. However, you should never add barbed wire to a fence if you plan to put your horses inside of the fence. The hide of a horse is more sensitive than that of cattle.
Wood Ranch Fences
In the majority of cases, wood ranch fencing works well. And when it comes to wood, you can choose from a wide array of options like:
* Alaskan White or Western Red Cedar
* Hemlock
* Locust
* Pine
* Oak
* Spruce.
Among the many durable types of wood ranch fencing, Alaskan white and Western red cedar are very cost-effective. These cedars are also known for resisting weather elements and insect infestations. And thanks to their natural oils, both kinds of cedars resist mold and decay. If your area is prone to long, harsh winters, either kind of cedar is a great choice and even better, neither have to be treated.
Hemlock and locust are two other types of wood suitable for ranch fencing. Hemlock is rather soft as far as wood goes; therefore, it is best to use for fence posts. If you treat the hemlock, you can use it to build the rails. And when treated, hemlock will not warp or bow. Locust is a hardwood known for being environmentally sound and not requiring any treatment.
Oak, pine and spruce are your last three wood ranch fencing choices. Oak is the most traditional choice because it is highly durable. And when used to corral horses, it can stand up to the animals' tendency to chew. Pine is another cheap wood but even when chemical and pressure treated, it will eventually warp and bow. Finally, you can use spruce. However, spruce must be treated to prevent it from warping, deteriorating and cracking.
Vinyl Ranch Fences
The biggest advantage of vinyl over wood is that vinyl ranch fencing lasts longer. It is also easy to assemble and maintain; however, the cost is rather pricey. And vinyl fences come apart easier. To combat this problem, some manufacturers create wood ranch fencing that is enclosed by vinyl.