In 1946, Lowes started off as a small, neighborhood hardware store. For over 60 years, Lowes has been expanding their operations and is now the second biggest home improvement store in the United States. Today, it is known as The Home Depot's top competitor and in the late 1990s, Lowes was notorious for building a store as close as possible to an existing Home Depot location. This North Carolina-based store boasts over 17,000 locations throughout the United States. The company offers products in over 20 categories. Lowes fencing is one such product. Some of the most popular Lowes fencing includes: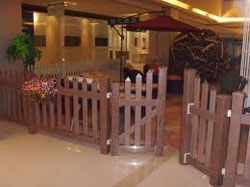 * Master Halco Chain-Link
* NatureWood Wooden Split-Rail
* Barrette and FREEDOM Vinyl Panels
* Severe Weather Lattice
Master Halco Chain-Link Fences
Master Halco chain-link Lowes fencing comes in 11.5-gauge, 50'-wide rolls that range in height from 4-6 feet. The price range per roll is $50-$80 USD. Master Halco also offers corresponding corner posts and line posts. If you choose to add a gate to your fence, the Master Halco gates come in single-walk and double-drive varieties.
NatureWood Wooden Split-Rail Fences
NatureWood split-rail Lowes fencing is perfect if you want to achieve a natural, ranch look for your yard landscaping. All of the NatureWood materials are pressure-treated to withstand harsh weather elements. This product line is sold in individual pieces. For your convenience, you can choose to buy posts with pre-drilled holes and rails with per-whittled ends, allowing you to simply install the posts and lock the rails into place.
Barrette and FREEDOM Vinyl Panels
Barrette vinyl Lowes fencing is simply beautiful. They offer a lot of products, which allows you to customize your fence. Barrette manufactures six-foot high privacy panels in white, cedar and sand. You can also find arch lattice screens and fencing with decorative iron scroll work at the top. If you like the look of picket fencing, Barrette offers this too.
FREEDOM is another popular type of Lowes fencing. FREEDOM fencing comes in white and desert sand. They do not offer as many style choices as Barrette; however, FREEDOM is a more economical choice. Some of the fence panels made by FREEDOM include:
* Gothic Wicker Fence
* Princeton Concave Picket Top Privacy Fence
* All-American Dog Ear Panel Fence
* Lattice Top Privacy Panel
* American Dog Ear Shadowbox.
If you plan to install one of these fences yourself, you can purchase posts and all of the necessary hardware from these Lowes fencing brands.
Severe Weather Lattice Fences
The last Lowes fencing on this list is the Severe Weather line of lattice fencing. By far Lowe's most popular brand of lattice fence, Severe Weather offers products in seven different colors. The colors are as follows:
* Forest Green
* White
* Natural Woodtone
* Redwood
* Dark Green
* Clay
* Driftwood Gray.
These panels only come in a 4'x8' size. However, you can have an employee at Lowes cut the panel to your specification. You can also purchase cap moldings and stainless-steel screws in corresponding shades. All Severe Weather lattice panels have a transferable limited lifetime warranty.