If you want to erect a fence, but you want something other than a traditional look, you should consider contemporary fencing. Today, there are plenty of contemporary fencing options that will give your yard a unique, stylish appearance, even on a tight budget. The style and configuration of fencing you choose will be determined by the purpose of the fence, the look you want to achieve and the style of the house.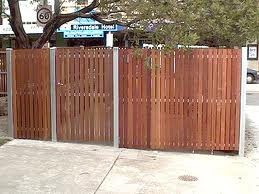 Fencing for Swimming Pools
If you have a swimming pool, you may want to find contemporary fencing in order to close off the pool and keep other people safe. Depending on where you live in the United States, it may be against the law to not have some type of pool enclosure. In some cases, homeowner's insurance requires it. Since pools are known for moisture, you need to pick contemporary fencing that can withstand eventual corrosion. Galvanized steel with a powder coating or aluminum are two excellent options.
Fencing for Pets
Keeping pets safe while outdoors is another concern of today's homeowners. If you cannot be outside with your pets, and you want them to get some exercise, contemporary fencing is a must. The size of the fence will depend on the animals and how much room you have to spare. You can build anything from a small pen to a large enclosure.
Contemporary Metal Fences
Ornamental iron is becoming a popular contemporary fencing choice because it provides privacy and enhances curb appeal. Ornamental iron fences are some of the most attractive fences and are typically seen on huge estates. Thanks to the variety of styles, the options are endless. If you want an iron fence for safety purposes, you can even add access-control systems and other security features.
Chain-link fences are another type of modern fencing used on residential and commercial properties. These fences are relatively inexpensive and are usually made of galvanized steel. However, some chain-link fences are coated in PVC and painted to match the color of a house's exterior. If you want to give the chain-link a unique look, you can add wind screens and vinyl slats; doing so also gives you more privacy. Some homeowners are even incorporating industrial iron to their fences for a totally customized appearance.
Modern Wooden and Vinyl Fences
While wood is a traditional fencing material, it can be used to create a modern look too. The choice of woods for contemporary fencing is varied and ranges from cedar to spruce. A lot of people choose split-rail contemporary fencing. When paired with steel, this type of wood fence is distinctive and eye-catching. If your property is rather large, you can utilize pipe fencing to create a border surrounding. This look is attractive and great for enclosing animals without restricting their freedom to roam.
Vinyl fencing is another popular choice among today's homeowners. Vinyl is great for contemporary fencing and the material requires very little maintenance. It is versatile, cost-effective and widely varied in style. Vinyl fences are available in panels and rolls.