There is an array of diverse options in terms of home and property security that will make any area beautiful and protected. Perhaps one of the most popular ways people add value and security to their home is with the installation of fencing. Today's home improvement stores offer fences in a huge assortment of styles, sizes, shapes, patterns and colors. The fencing choices on the market are truly endless. Therefore, you will be able to easily find a fence that perfectly suits the design of you house or business and the limits of your budget.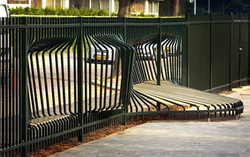 Chain-Link Fences
Chain-link fences are among the most commonly purchased. This type of fencing material is suitable for commercial and residential properties and can last up to 30 years before needing to be replaced. Chain-link fences are also referred to as chain-wire, cyclone, hurricane and wire-netting fences. The two factors that contribute to the popularity of chain-link fences is the ease of installation and low price of purchase. Some people also like chain-link fences because they do not block the sunlight.
Vinyl and Wood Fences
Another common variety of fencing material is vinyl. There are numerous reasons why consumers prefer vinyl fences over other types, such as being easy to install, coming in many style selections and being durable, weather resistant, maintenance free and attractive. However, vinyl fences tend to cost more than the other kinds of fences on the market.
A lot of homeowners really like wood fences. These fences are not only attractive in appearance but also available in a reasonable price range and do not require a lot of maintenance. If the wood is properly treated, the fence can last up to 20 years.
Aluminum Fences
Aluminum fencing is best utilized in commercial and industrial environments. Owners who wish to improve the security and appearance of their property should consider fences made of aluminum. These fences are great at resisting corrosion; however, they are difficult to repair.
Iron Fences
Iron fences can be used by anyone who wishes to enhance the look of their residential, commercial or industrial property. Out of all five kinds of fencing material on the list, iron is the most expensive. Regardless of the high price, iron fences are easy to repair, very durable, less likely to be tampered with and long lasting.
The above types of fencing material are the most commonly used by today's consumers. Unless you have handyman skills, or prior installation knowledge, it is best to hire the services of a professional fence installation company. These companies possess the skills, knowledge and equipment to quickly, easily and correctly install virtually any kind of fence.
Remember, fencing in your yard or business not only improves the beauty and security of the property but also adds to the level of privacy. However, before you go to the store and purchase a fence, think about some important buying factors such as the cost of installation, maintenance, security and lifespan. Once you determine what is most important to you in terms of fencing, making the right choice will be easy.